---
A busy day at Princes Landing Stage, Liverpool, in 1962.
In the foreground the Isle of Man Steam Packet Company's passenger-car ferry
MANX MAID loads for Douglas. Astern of her, Canadian Pacific's new flagship
EMPRESS OF CANADA is disembarking passengers after arriving from Montreal;
whilst at the north end of the landing stage is the Cunard Line's CARINTHIA,
loading for another voyage to Quebec and Montreal, via Greenock.
At the time this photograph was taken (by the Liverpool Daily Post), a scene such
as this was a way of life on Merseyside which seemingly had no end, but by the
end of the 1960s it had all but disappeared.
Liverpool Ships include the Cunard and Canadian Pacific passenger liners on the New York and Montreal services; the Elder Dempster ships on the West African run; the Pacific Steam Navigation Company's two 'Reinas' sailing to the West Coast of South America, and finally the Booth Line's
'Hilary', sailing 1,000 miles up the Amazon.
The EMPRESS OF BRITAIN backing off Princes Landing
Stage, with Elder Dempster's AUREOL alongside.
CREDIT WHERE CREDIT'S DUE
I am the author of all the text which appears on this website. The various articles (now 'webpages') have been written over the past ten to fifteen years, and I have consulted the publications listed in the Bibliography for this purpose.
As far as the photographs are concerned, it's just impossible to credit the various sources. Many of them I have taken myself; most of them have been submitted for inclusion by interested visitors to the website as it progressed; but a fair number have been culled from the Internet and there has been no credited photographer. If one of your photographs has found its way on to this site, please let me know and I can then either remove it from the site, or immediately give you the credit.
A special 'thank-you' to < www.20thcenturyimages.co.uk > who have kindly allowed me to use several of their superb black-and-white photographs on this website.
visit also: www.merseyships.org
j.s. May, 2011
The SYLVANIA on her trials over the Arran Mile in May 1957
BIBLIOGRAPHY
Books
Great Passenger Ships of the World, Volumes 4 & 5, (Arnold Kludas), 1977
Harrisons of Liverpool (Captain Graeme Cubbin) : World Ship Society / Ships in Focus
Last White Empresses, (Clive Harvey) : Carmania Press, 2004
Liverpool's Last Ocean Liners, (John Shepherd) : The History Press, 2008
Lloyd's Register of Ships - various editions
Saxonia Sisters, (Clive Harvey) : Carmania Press, 2001
Periodicals
Journal of Commerce
Liverpool Daily Post
Liverpool Echo
Sea Breezes
Shipbuilding and Shipping Record
Ships Monthly
The EMPRESS OF SCOTLAND on passage between Quebec and Montreal
---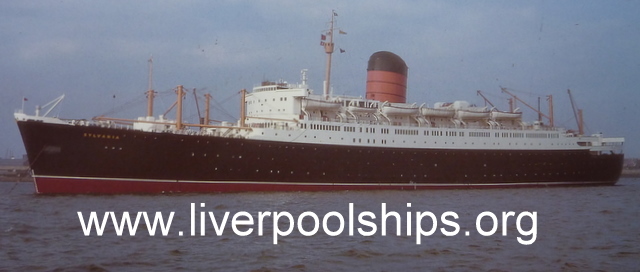 ---